A few days before Christmas 2018, the chairman of the American Car Friends Augsburg e.V. Society (ACFA) had a splendid idea: During talks with Augsburg's afa (Spring Fair) management he proposed as part of the new fair concept with emphasis on regional orientation, to help attracting particular attention with an "Amerika in Augsburg" special. With such an action, ACFA as well as Amerika in Augsburg e.V. (AiA) could, together, draw attention to themselves. The imagined external impact which could refresh the memory of Augsburg's American past sustainably, impressed the doers of the fair: The special show was born!
Thomas Zänker, ACFA's publicity expert, wrapped the idea in a decorative website with a specific fair layout, including a logo, and applied his network contacts. Thus, a generous afa area of more than 300 m2 could be utilized for placing enough ideas to flaunt diverse American memories. And this not simply exhibited but in in fact in a very lively way.
Computer simulations anticipated the exhibition area.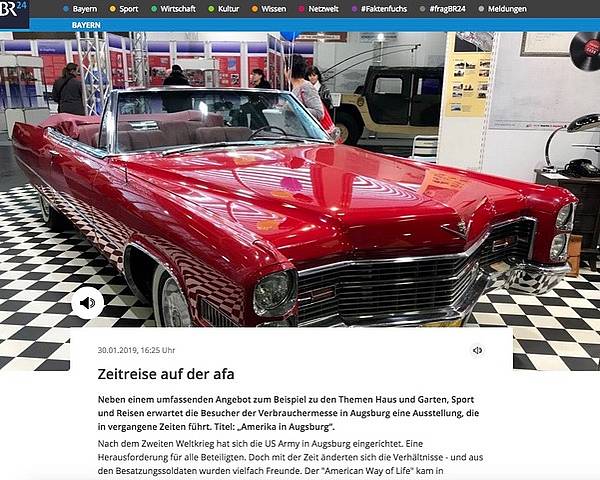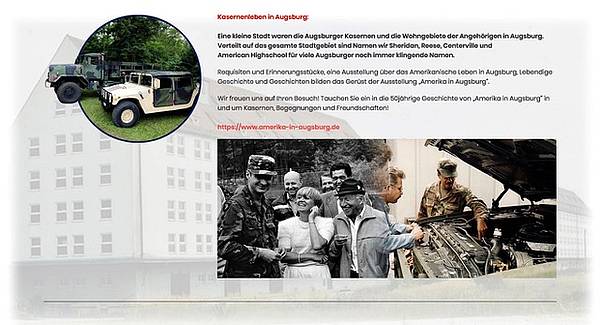 Numerous media pointed the special American show out. An especially generated website referred also explicitly to the military background of the exhibition.
Amerika in Augsburg e.V. Society contributed dozens of its collected museum exhibits as well as more than 200 photographs to the design of the exhibition stand's themes. AiA presented again another eye-catcher, the University of Augsburg's historical biography 'Amerika in Augsburg', produced a couple of years ago and printed on lengths of cloth. Two privately owned military vehicles, placed on the perimeter of the exhibition stand, made the event's former military as well as political background clear.
In numerous conversations with visitors, once again the still existing predominant amount of American connections within the population could be ascertained. Infinitely branched out life stories still leave their marks on the family structures of many Augsburg citizens. The shown American Way of Life, represented by several US old-timer vehicles of different epochs, aroused much enthusiasm and succeeded in creating an impressive narrative discovery thread of everyday German-American life in Augsburg.
Above: Many industrious hands were cleaning and repairing to achieve shining illuminated displays again. Below: ACFA's Thomas Zänker proudly presented the once more illuminated 'B.A.-Street' gas station sign which meanwhile had become a symbol of the American presence in Augsburg. Right: A several hundred weights jukebox was not too heavy for the ACFA enthusiasts to be brought on its way from Bldg 116 to the fair-ground at the university district. And it is still in working order!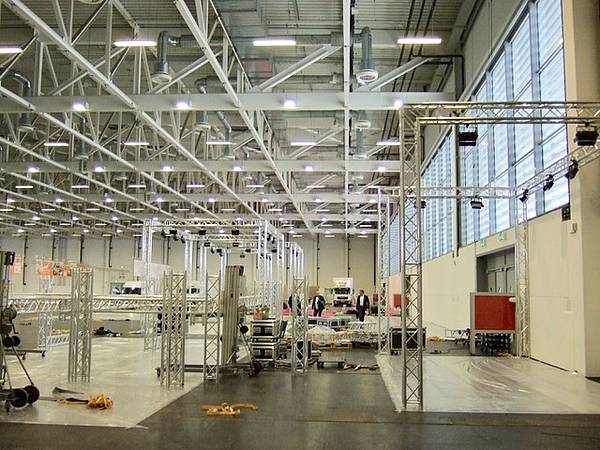 First anticipations of the special 'Amerika in Augsburg' exhibition stand.
The gradually moving in vehicles were not exactly pocket sized, and this in winter weather. The valuable motorcar masterpieces were loaded with care.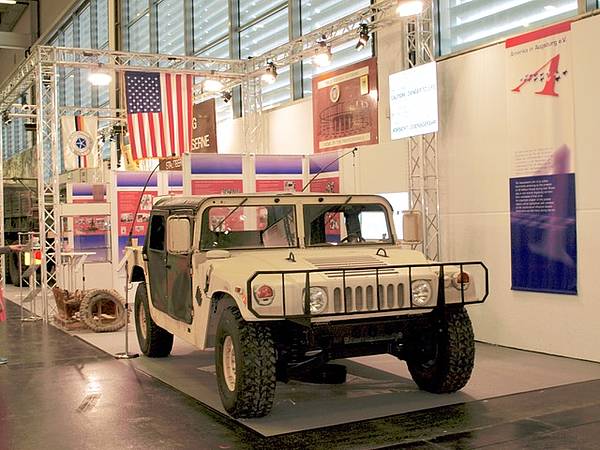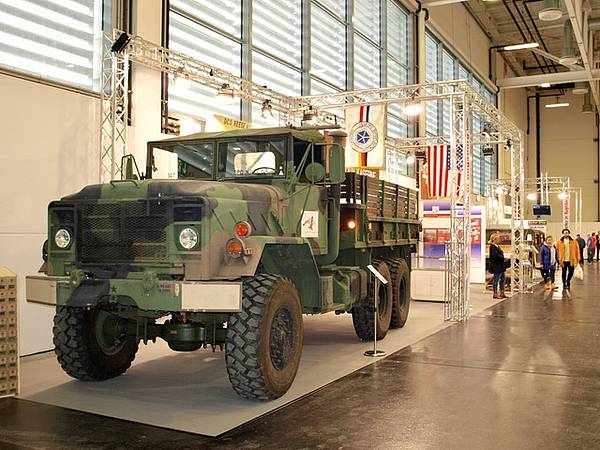 Amerika in Augsburg e.V. is parked: Humvee (Hummer H1) (top) and the M923AM General Cargo Truck (bottom) flanked the military memorabilia area.
Sports were a permanent link between both nations in the garrison city of Augsburg.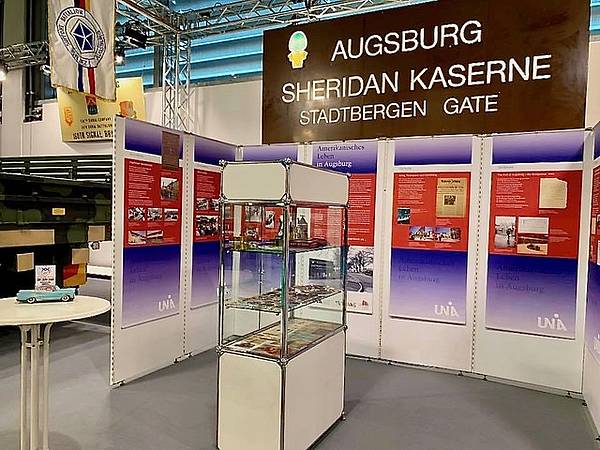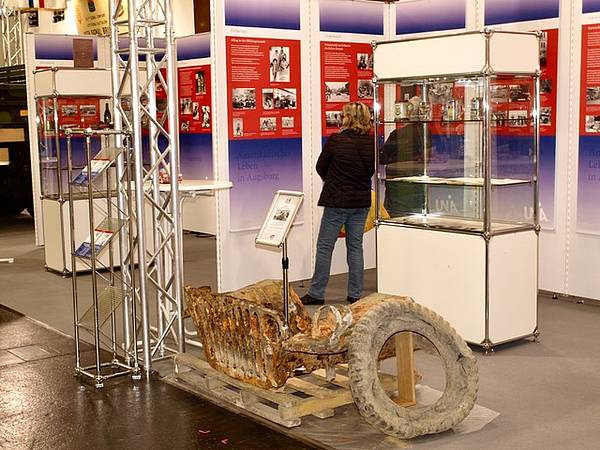 An U.S. jeep's salvaged pieces of wreckage out of the Autobahnsee decorated the America in Augsburg e.V. Society stand. A special eye-catcher was the big entrance sign of Sheridan Kaserne's Stadtbergen gate.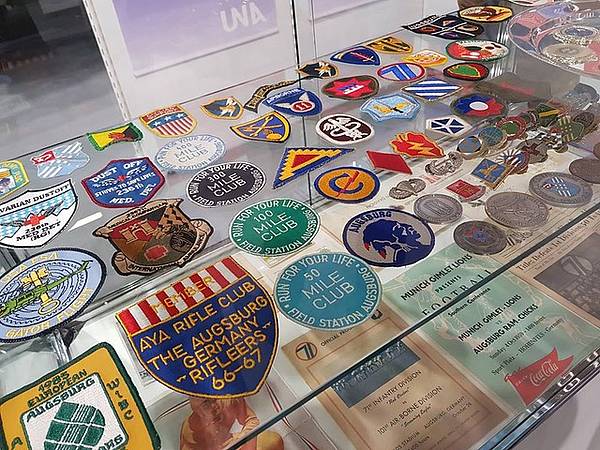 Patches and documents of all kinds were shown in glass cabinets. All exhibits had an Augsburg identity.
The American lifestyle stand conveyed PX and Commissary atmosphere.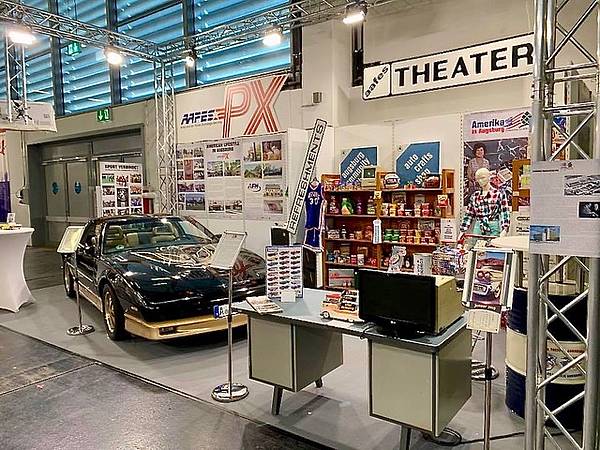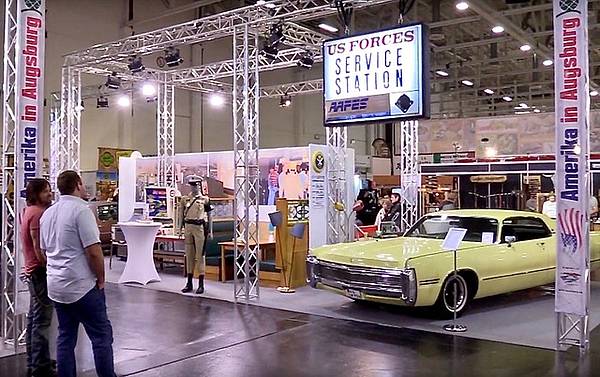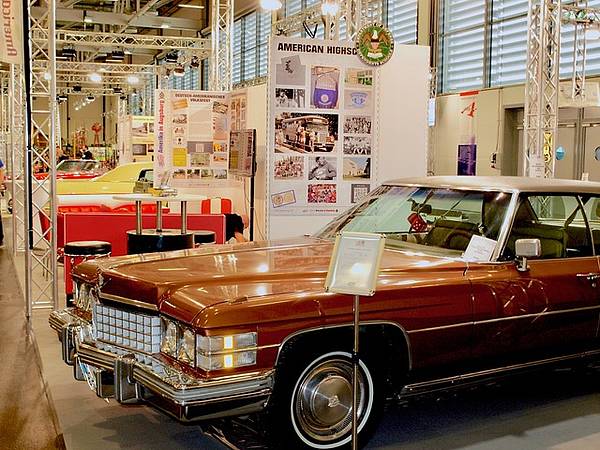 The whole diversity of the American Way of Life could be seen at the joint stand.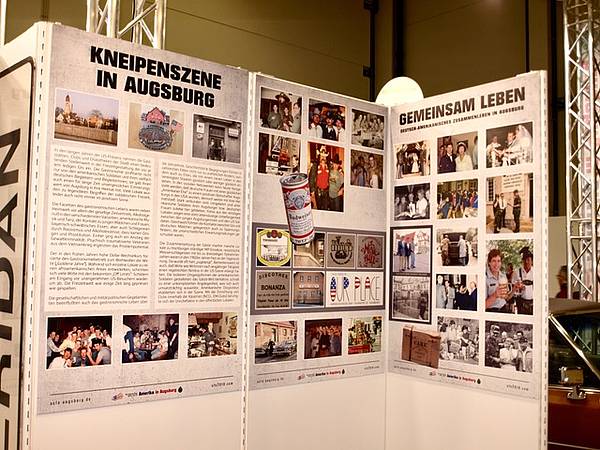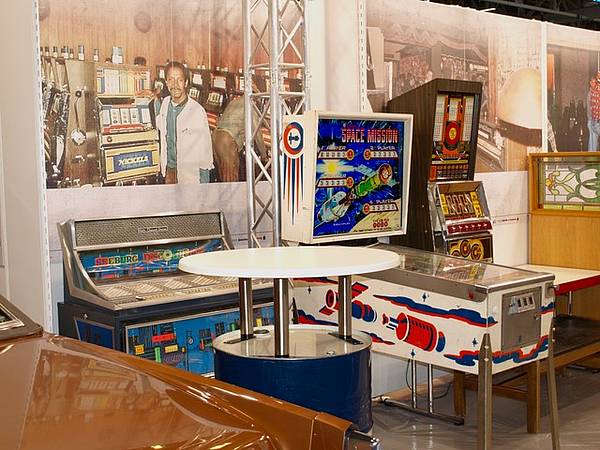 The 'bar scenery' was equipped with authentic gambling machines and a historical jukebox. An original mess-hall sitting group from Sheridan Kaserne's 'Bavaria House' (Bldg 118) and the military policeman provided the appropriate ambience.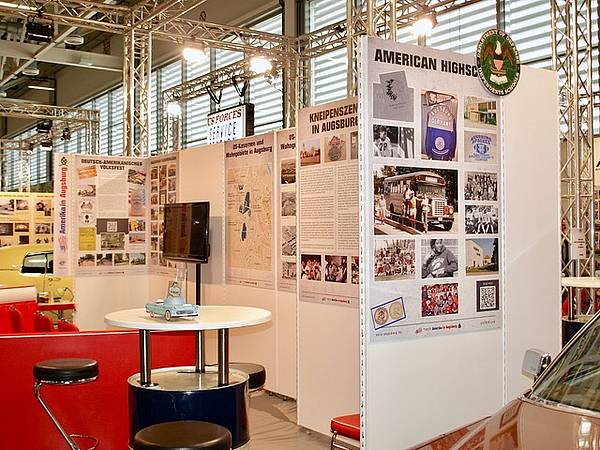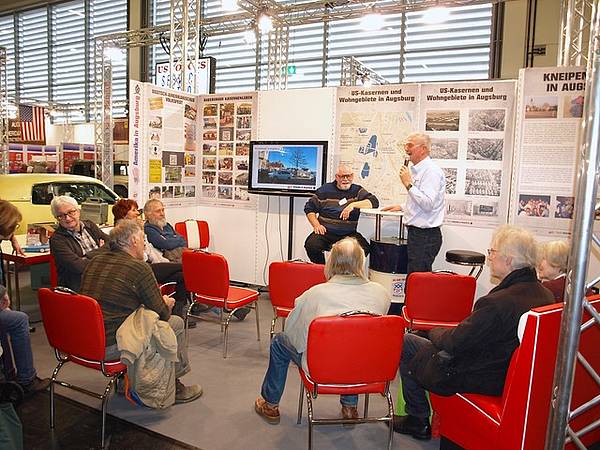 In the 'telling corner', ACFA's Edgar Mathe entertained visitors with his experiences as a taxi driver during his student days when he had extensive contacts with GIs.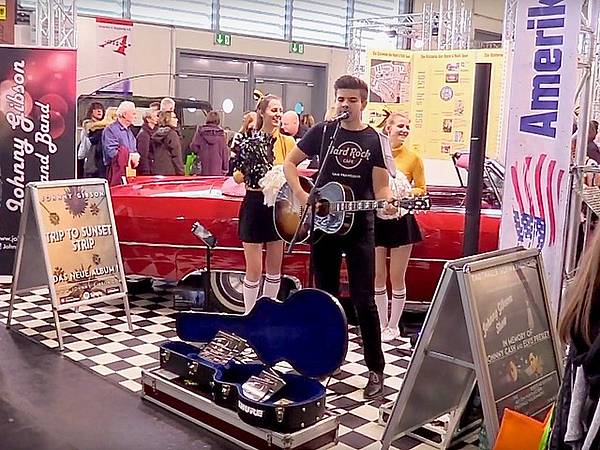 Johnny Gibson offered music and songs of the earlier 'American time' during two country afternoons. He covered Johnny Cash as well as Elvis Presley.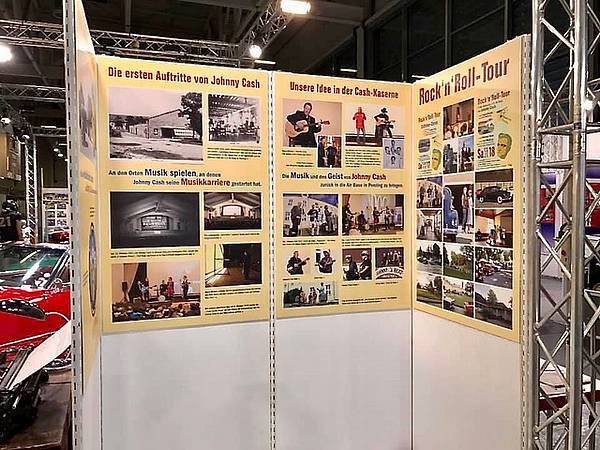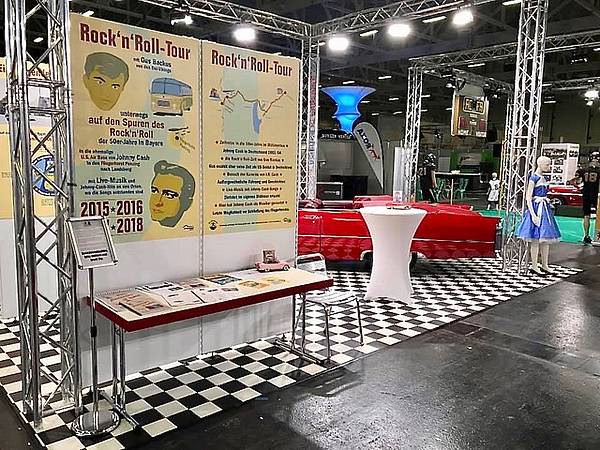 Johnny Cash's Rock 'n' Roll Tour was shown as well as video recordings and Johnny's written declaration of love towards the town of Landsberg, where he spent leisure time during his military service.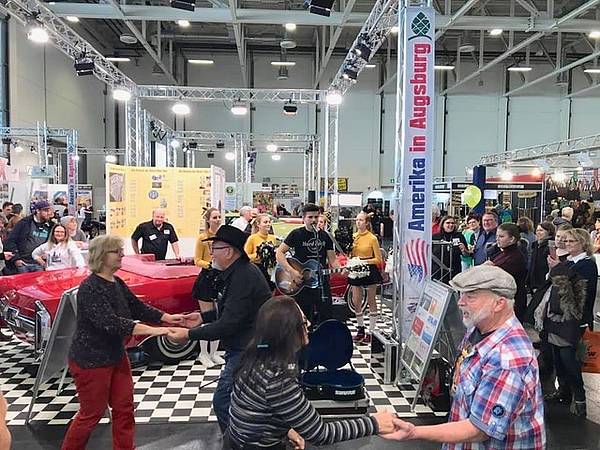 The atmosphere of the American era.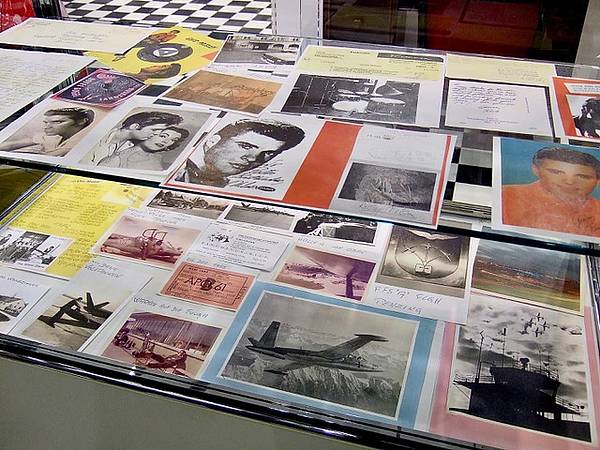 Documents of the country/rock icons Cash and Presley.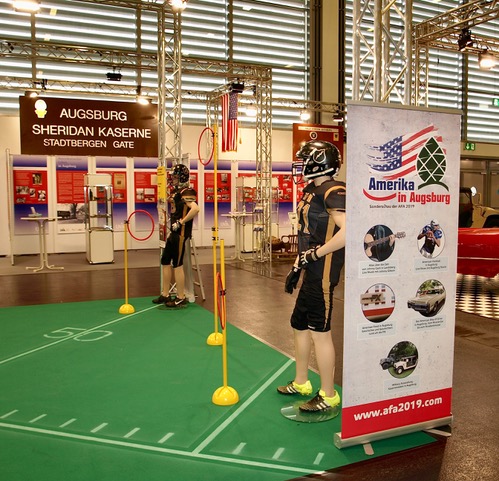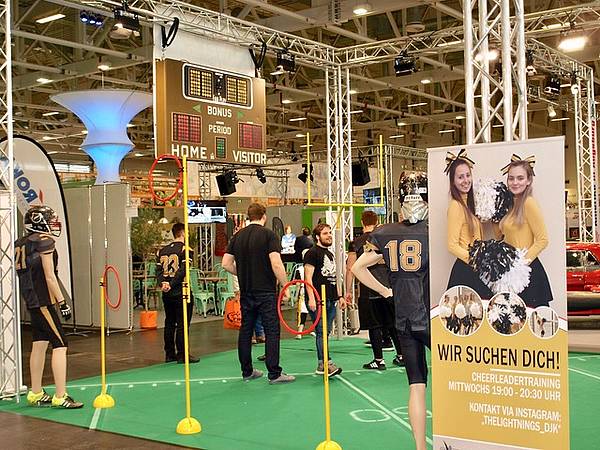 Being transported back in time with reminiscences of American football by members of Storm.
The signs of cooperation: US-car friends, Amerika in Augsburg Society and the special Amerika in Augsburg exhibition.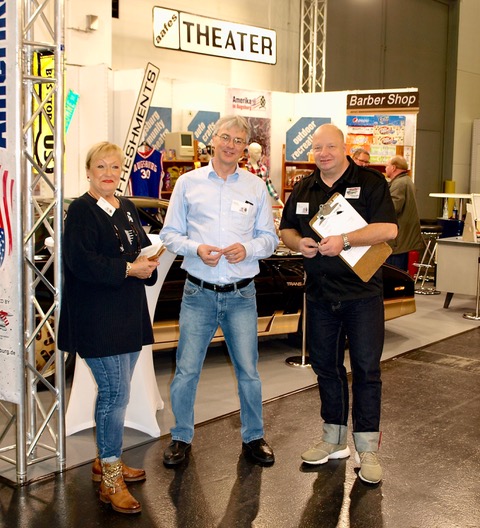 An encounter between fair stands: Gisela Mayo and Georg Feuerer, Amerika in Augsburg e.V., with Thomas Zänker, American Car Friends Augsburg e.V., (right).