Already for the tenth time, the 66th Military Intelligence Brigade - the last U.S. unit that had been stationed in Augsburg - attended the annual Plärrer Fair Parade. Especially older onlookers again enjoyed vivid memories of the active ´America-Augsburg´ that went out of existence in 1998. As last year, COL David W. Pendall lead the 45 personnel delegation with consummate ease through the streets of the historical Augsburg, distributing lots of candy among the crowd. The GIs were accompanied by members as well as old-timer vehicles of the Amerika in Augsburg e.V. (AiA) society, both Augsburg U.S. veterans´ associations, and the local Police Car Friends. Representatives of the Augsburg Bundeswehr reservists lead the military segment of the parade.
In spite of the stifling hot summer weather marching with loud cadence singing, the U.S. soldiers more than earned their refreshing Maß (liter) Beer, soda or cola in a typical Bavarian Bierzelt. In addition, traditional grilled chickens were served. After an approximate two hours stay, the U.S. guests, who had been invited by the City of Augsburg, had to start the long return to their Wiesbaden post. AiA organized, realized and personally cared for them in the society´s sense of non-profit-making, international understanding and transatlantic relationships. We are sure that the 45 young U.S. soldiers - male and female - will return to the States positively impressed by this stay in Augsburg.
All photos: Amerika in Augsburg e.V.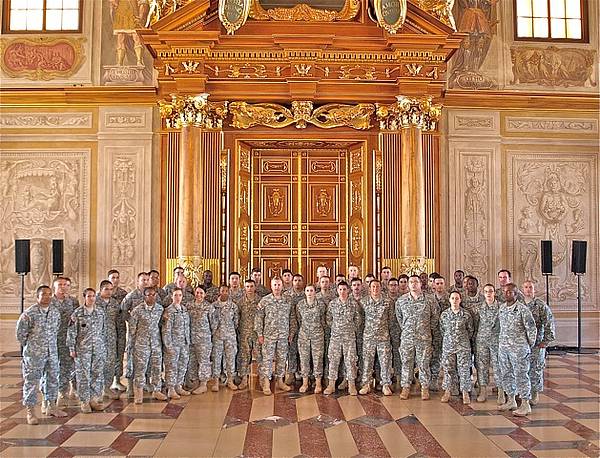 The traditional group photo, taken in the historical town hall's Goldener Saal.
Left: COL Pendall is providing instructions and background information in regard to the Augsburg visit. Right: Formation on the Rathausplatz, the Augustusbrunnen in the background.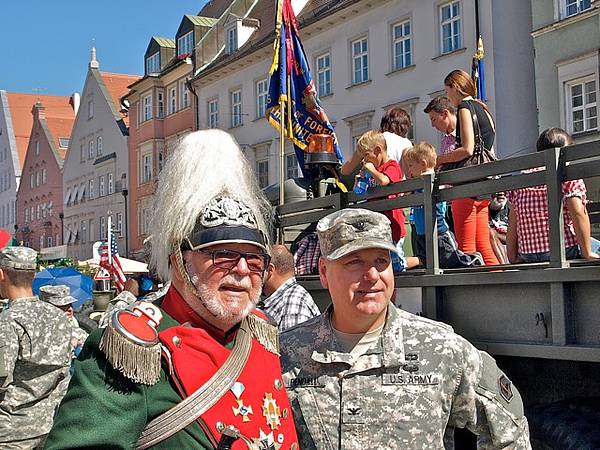 Martin Aigner, Traditionsverband Royal Bavarian Light Cavalry (4. Chevaulegers Regiment "König") and David W. Pendall, 66th Military Intelligence Brigade, are waiting for the start of the parade.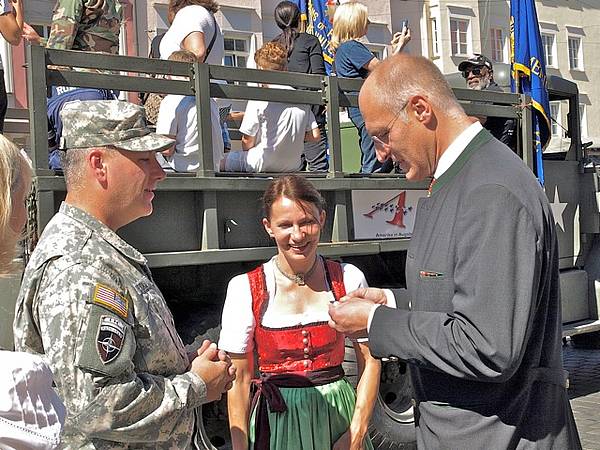 Lord Mayor Dr. Kurt Gribl receives a 66th MI Brigade coin from COL Pendall, watched closely by Mrs. Gribl.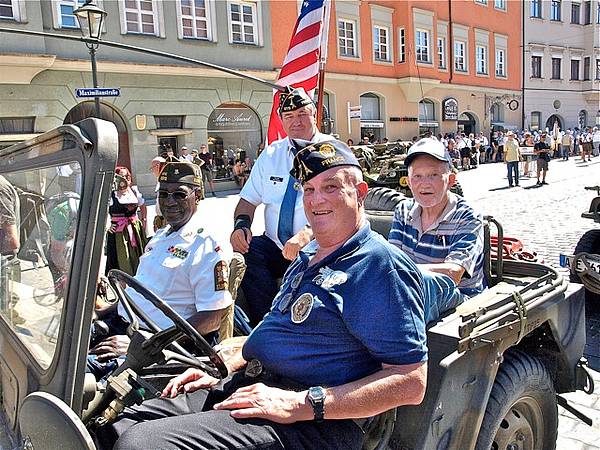 Augsburg's U.S. veterans' associations: Up front Rick Cervenka on the driver's seat, Arnold Owens on the left. In the back Valentin Hallinan and Gary L. Baisley (far back).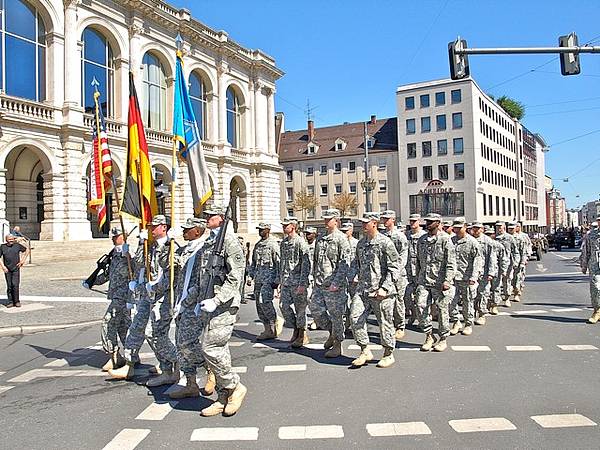 The delegation is passing the Stadttheater
Left: Honolulu police car. Right: Sunshade protected onlookers sitting in a sidewalk café, watching the parade.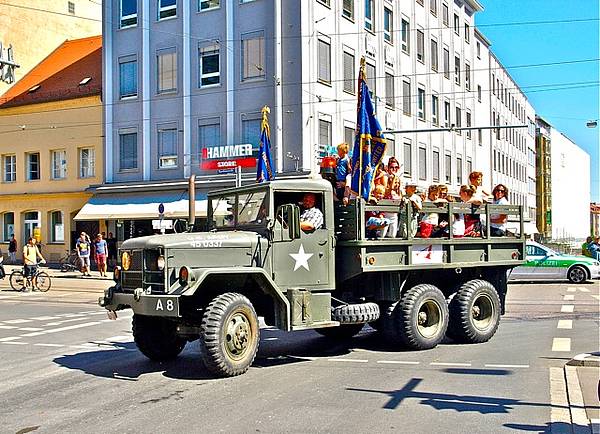 The society's old-timer truck is laden with guests.
Massed crowd is friendly applauding the American soldiers. Evidence that their decade-long presence in the city is still not forgotten.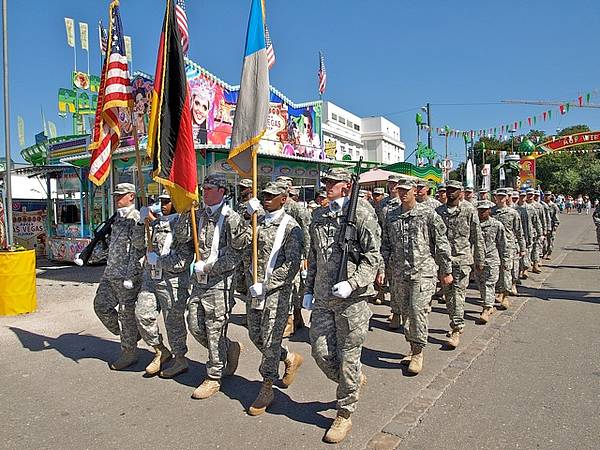 Entering the Plärrer fair ground. Color Guard up front.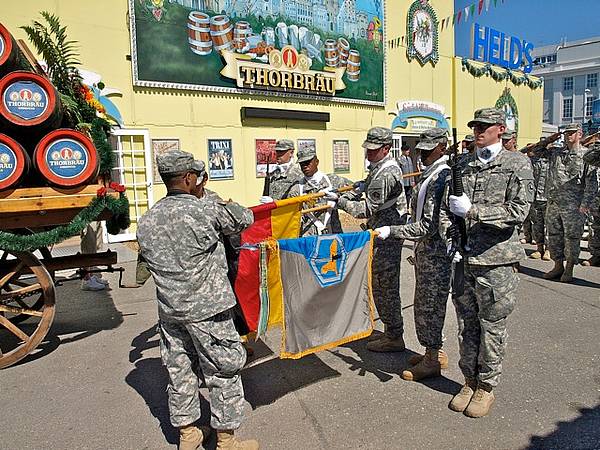 Furling the flags, the soldiers - male and female – saluting.
In the Bierzelt: A lot of thirst, chickens, and meetings.
At the Bierzelt table: Right: COL David W. Pendall, his spouse Sandra, and Chairman Georg Feuerer. Left: 1st SG Lourdes Barragan, Heinz Strüber, and Gerhard Rankl, both AiA. Right: The coins of a traditional partnership.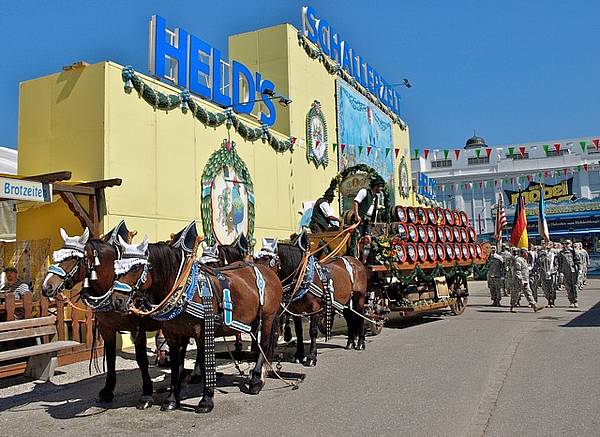 An expression of Bavarian brewery and festival culture: one of the historical carriages.
Translation: Heinz Strüber