Forty men plus two women up front: In bright sunshine and under a typical white and blue Bavarian sky, numerous male and female soldiers of the 66th Military Intelligence Brigade from Wiesbaden offered - as every previous year - their greetings as the Fugger city's last U.S. unit. Under the command of LTC Angela E. Reber, 24th MI Battalion, the delegation marched with astonishing expressive cadence singing to the Plärrer fair ground, the color guard ahead.
This year's highlight was US consul general Jennifer D. Gavito from Munich, enriching together with her husband and her children the American delegation in a Cadillac convertible. Charming and cordial, Ms. Gavito showed the American closeness with the longtime garrison Augsburg, enthusiastically welcomed by the watching population. In many Augsburgers, this unexpected contact with the American way of life brought back memories of earlier years.
With historical military vehicles in the Plärrer Fair Parade, Amerika in Augsburg e.V. rounded memories off. As in previous years, the more than an hour lasting parade was terminated by the American guests with a culinary beer tent visit.
(All photos: Amerika in Augsburg e.V.)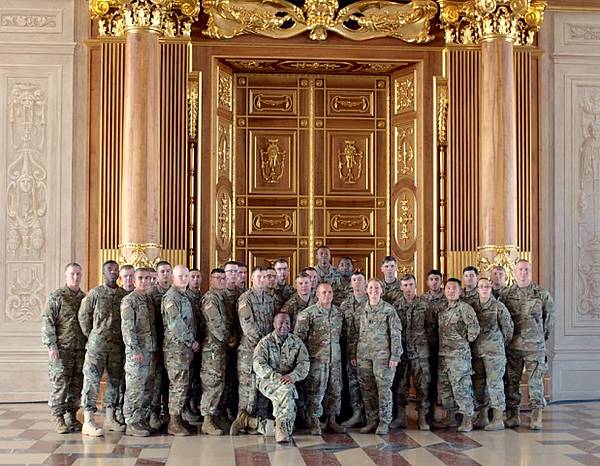 The obligatory group photos in the town hall's Goldener Saal (top) and at the Hercules Brunnen in Maximilianstraße (below).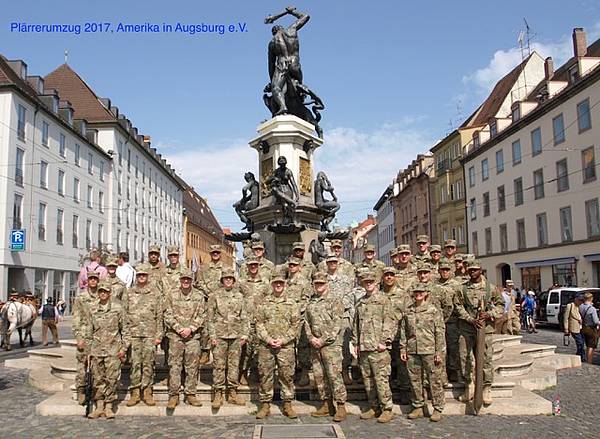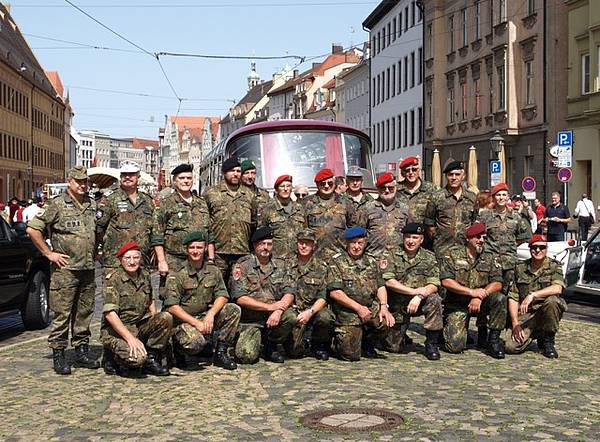 Bundeswehr reservists of diverse ranks as well as arms of the services were enriching this year's U.S. delegation.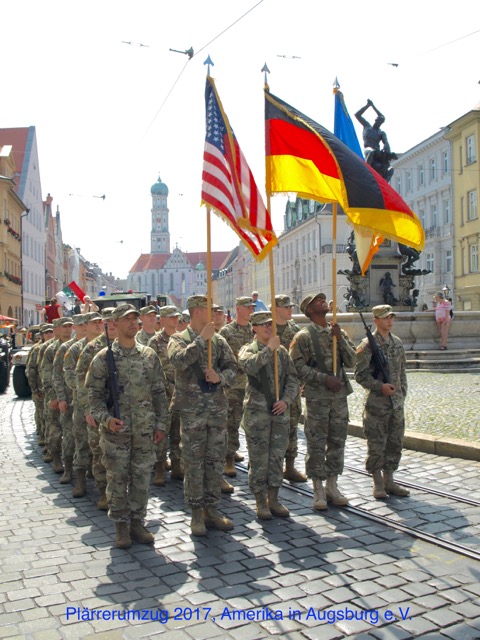 Left: Not quite genuine, nevertheless impressive police protection up front, the Cadillac with Ms. Gavito behind. The genuine body guards accompanied the consul general afoot and in a black Chevrolet. Right: Scene at the densely crowded Moritzplatz.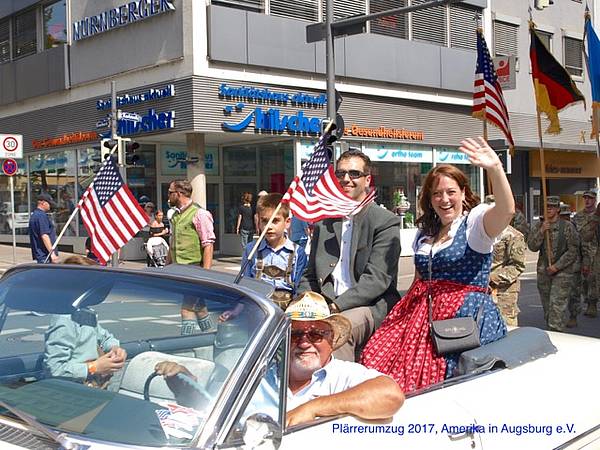 Consul general Gavito in chairman Peter Auner's historical Cadillac of the American Car Friends Augsburg e.V., a cooperative partner of Amerika in Augsburg e.V.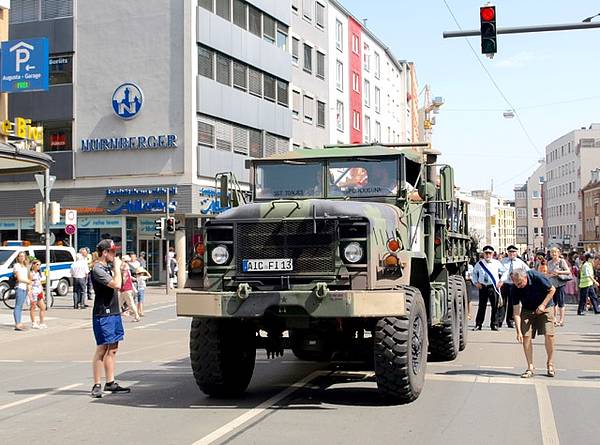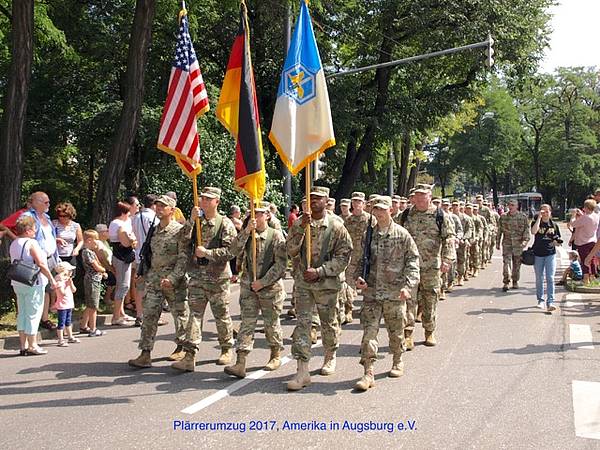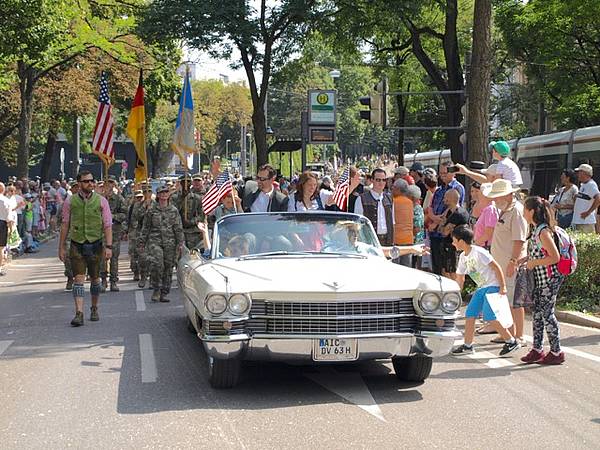 Left: A reenactor vehicle of Augsburg's liberation division of April 28, 1945, the 3rd Infantry Division (see flag). Passenger city councilor Leo Dietz with company distributed large amounts of lollipops and chewing gum. Right: LTC Reber stops her delegation near the strived for beer tent. The flags were also furled here.
Left: Bavarian dirndl and battle dress uniforms – meals and drinks for the American guests were served speedily and smoothly, thirst being large due to the heat. Right: German-American harmony during the farewell in the beer tent. Bundeswehr and U.S. Army presented themselves definitely "in public benefit" as requested per the articles of the Amerika in Augsburg e.V. Society, thus building transatlantic bridges.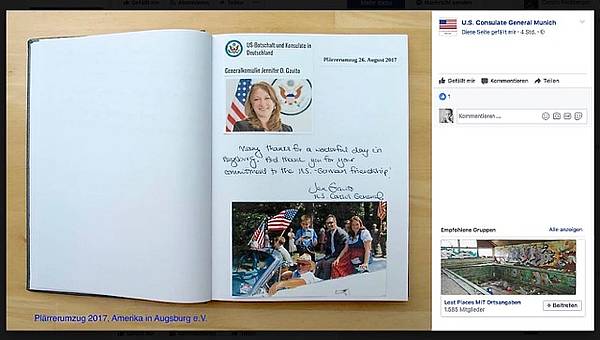 Consul general Jennifer D. Gavito's entry in the society's guest book.