On May 20, 2015, Amerika in Augsburg e.V. (AiA) society invited the delegation of the Fuggerstadt's sister city Dayton/Ohio for a typical Bavarian BBQ in former Sheridan Kaserne's Bldg 116, presently the home of AiA. The group of 17 guests, headed by Mayor Nan Whaley, experienced an authentic local meeting with AiA members, friends and former employees of the USMCA Augsburg. The menu included Augsburger beer, local soft drinks, grilled sausages, rump steaks, several salads and famous regional brown bread. The BBQ ended with home baked sweet specialties.
The presentation of a gold plated AiA coin and Nan Whaley's guest book entry brought this somewhat different component of a sister city meeting to an end. Amerika in Augsburg e.V. once again verified its non-profit colors in regard to international understanding - besides its many other activities.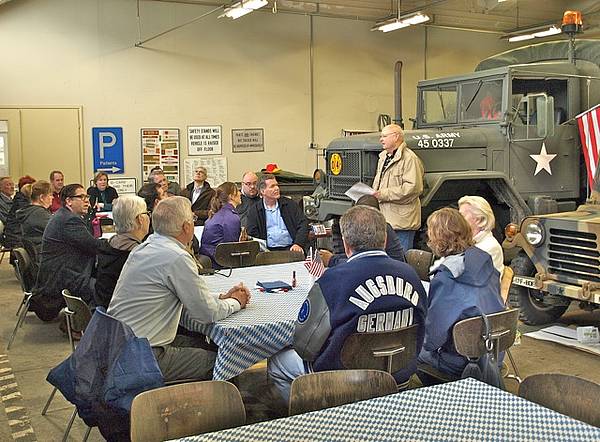 Heinz Strüber (AiA) is talking about the history of Sheridan Kaserne from National Socialism to the present conversion. Not to forget those more than fifty years of U.S. presence!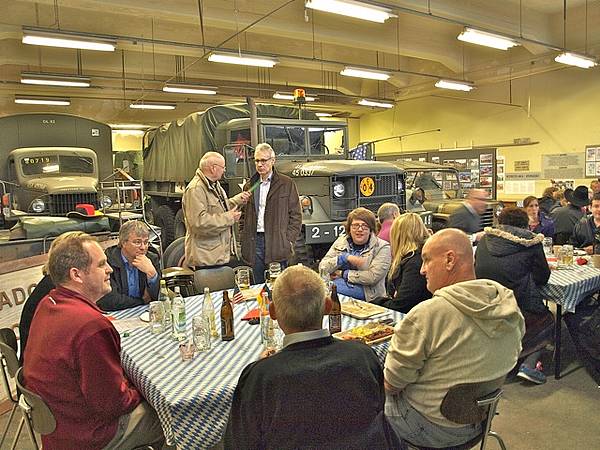 Dieter Saborowski, city of Augsburg, (middle) takes care of the American guests' welfare.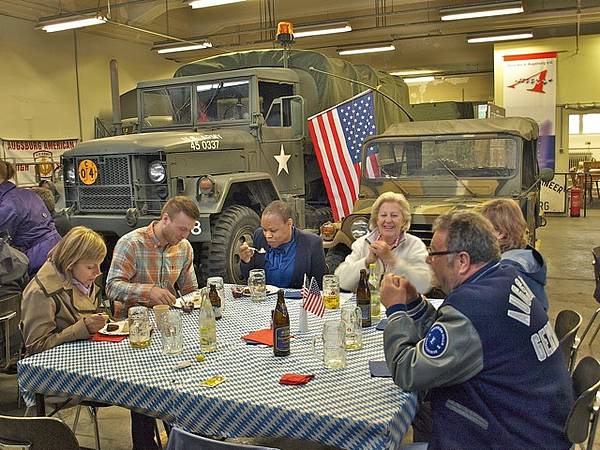 Dayton guests with former local national (LN) Army employees.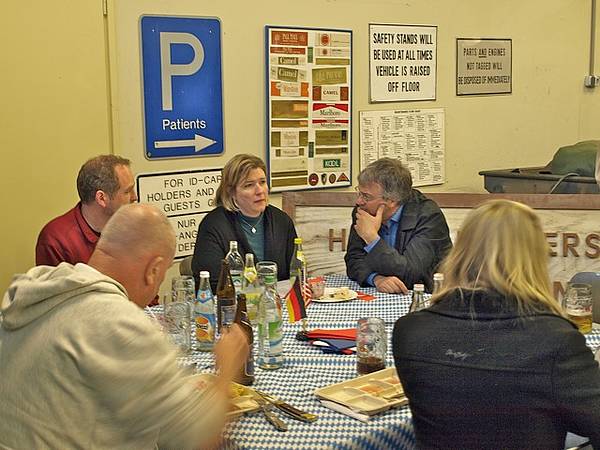 Mayor Nan Whaley (middle) talking with society Chairman Georg Feuerer.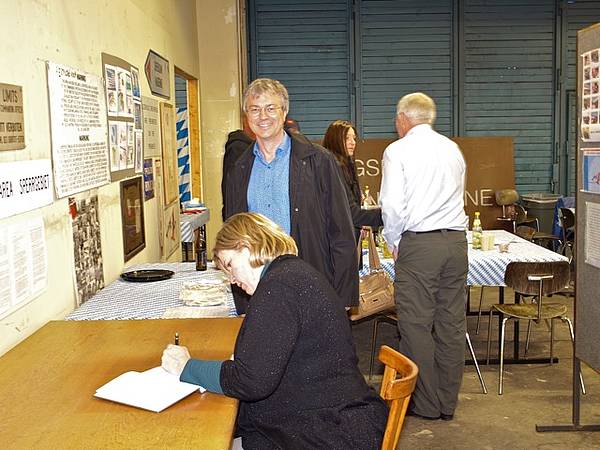 Chairman Georg Feuerer is pleased by Mayor Nan Whaley's entry in AiA's guest book.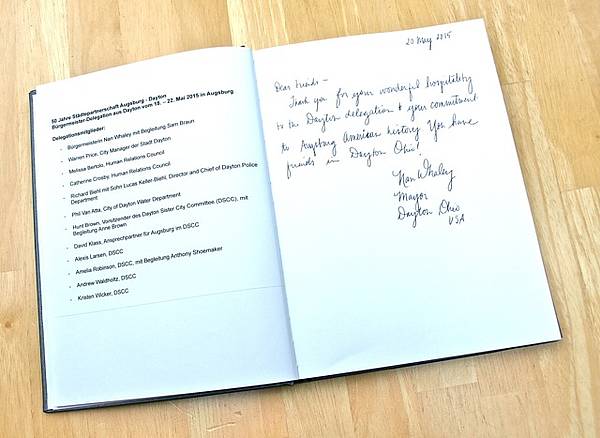 Nan Whaley is Dayton's Mayor since 2013.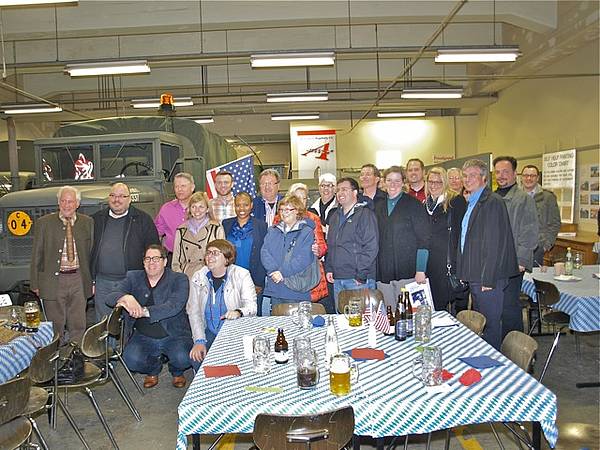 Farewell group photograph.
Info:
The origin of this city partnership is based on President Dwight D. Eisenhower's 'People to People' program of 1956. After a basic decision on May 1, 1957, the Augsburg-Dayton partnership was founded in 1964. It was the first since the end of WW II, intensively supported during a visit to the United States from then Lord Mayor Dr. Klaus Müller. It was also supported by Dayton's National Cash Register Corporation (NCR), in Germany called National-Registrier-Kassen (NRK), which had its German headquarters plus a plant in Augsburg-Kriegshaber erected in 1947. The construction of its still existing big admin building was finished in 1952. Another permanent connection was also made when naming a part of the B 17 highway in Augsburg's - then U.S. - west 'Dayton Ring'.
Dayton/Ohio was founded on April 1, 1796. The city is named after Jonathan Dayton, Captain of the American Revolutionary War, one of the signatories of the U.S. Constitution. It is the place of birth of the Wright brothers, the aviation pioneers who invented powered flight. No wonder why the National Museum of the United States Air Force is located in Dayton. Presently only about 145,000 inhabitants remain in that modern industrial city that, due the slowdown of car manufacturing, similar to Detroit, has a number of uninhabited outskirts; demolition and new construction are alternating. The racial makeup of Dayton in 2010 was 51.7% White, 42.9% African American, 0.3% Native American, 0.9% Asian, plus other races including Hispanic or Latino. The city covers 147km2. A special feature is the public electric trolley bus system, something pretty common also in Germany's post-war era.
Translation: Heinz Strüber
Links: