After a visit at the "Americana 2013" fair, U.S. consul general William E. Moeller seized the opportunity to become acquainted with the project "Building 116" as a future museum - "a place for reflection and in memory of war and peace".
On the initiative of Johannes Hintersberger, a member of the Bavarian Landtag (parliament) (MdL), the concept of a museum and a "place for reflection" - covering the time of the hard labor camp (1944/45) in the building as well as the 53 years of U.S. Forces presence in Augsburg for future generations - was presented to consul general Moeller. Prof. Dr. Philipp Gassert of the University of Augsburg is developing a concept on the City of Augsburg's behalf. On site were also Edgar Mathe and Gerd Merkle as representatives of the City of Augsburg, as well as the chairmen of the two interested groups, Georg Feuerer and Dietmar Egger.
After the presentation, Bill Moeller visited the improvised but nevertheless authentic location of Amerika in Augsburg e.V. Society in Bldg 116, Sheridan Kaserne. Both chairmen of the society and some other members endeavored to elaborate the statutory purpose of the society. Attending was also MAJ (Ret.) Rick Cervenka of the Augsburg American Legion Dwight D. Eisenhower Post GR 13. The engagement of MdL Hintersberger could be felt as he pondered the potential future utilization of the building. He was supported by the unanimous decision of the City Council of June 28, 2012.
Consul general Moeller did not miss the offered opportunity to drive the historical Cadillac of the city's WBG (Wohnungsbaugesellschaft der Stadt Augsburg) / AGS (Augsburger Gesellschaft für Stadtentwicklung und Immobilienbetreuung) manager Edgar Mathe to the former Officers Club, Bldg 180. The American visit ended with a short tour thru the building.
August 28, 2013
(Unless otherwise stated: All photos Amerika in Augsburg e.V.)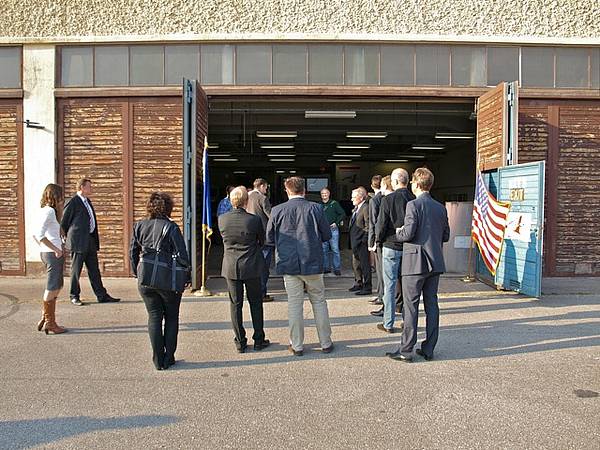 Open doors of Bldg 116 for consul general Moeller's delegation.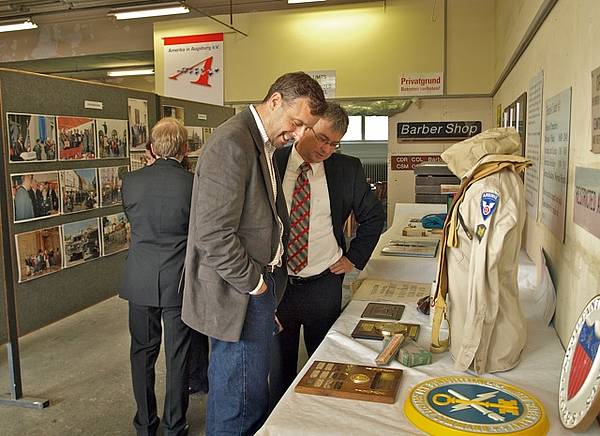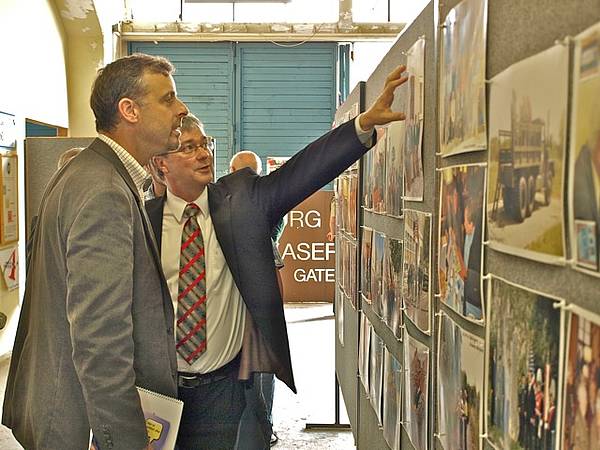 Society chairman Georg Feuerer showing the diverse activities of the society.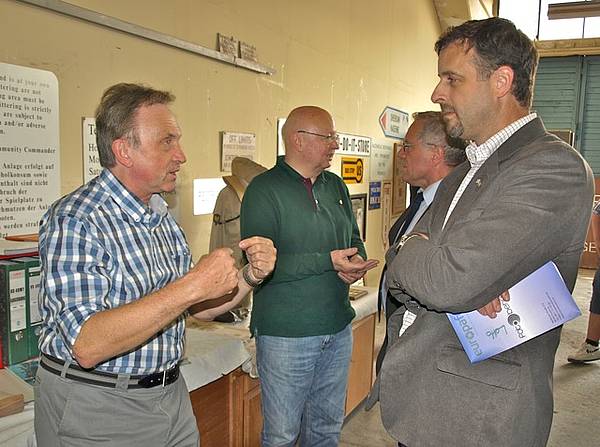 Max Lohrmann explaining the historical documentation and research work of the society. In the background Heinz Strüber (once working for the USMCA's DEH) talking with Johannes Hintersberger (MdL).
A special trip by Cadillac from Bldg 116 to the former Officers Club, Bldg 180.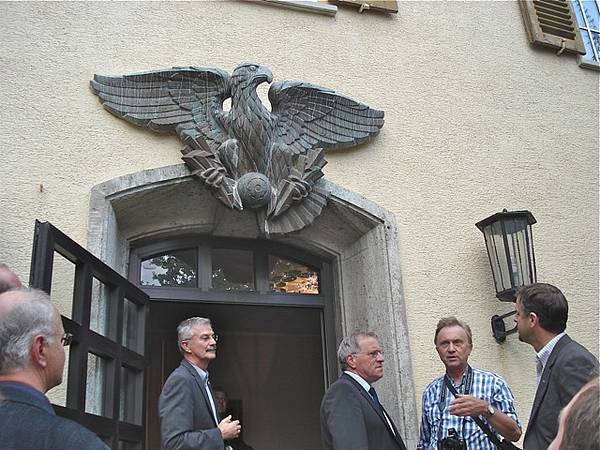 Explanations of NS symbolic with U.S. alterations in front of the entrance of the Club. (Photo: Gerhard Rankl).
In search of historical remnants in the basement bar of the club. Left: Bill Moeller (middle) with Johannes Hintersberger (left) and Rick Cervenka, American Legion Augsburg (right). Right: The consul general interpreting stained glass windows of the Wehrmacht, next to him WBG/AGS manager Edgar Mathe and Johannes Hintersberger.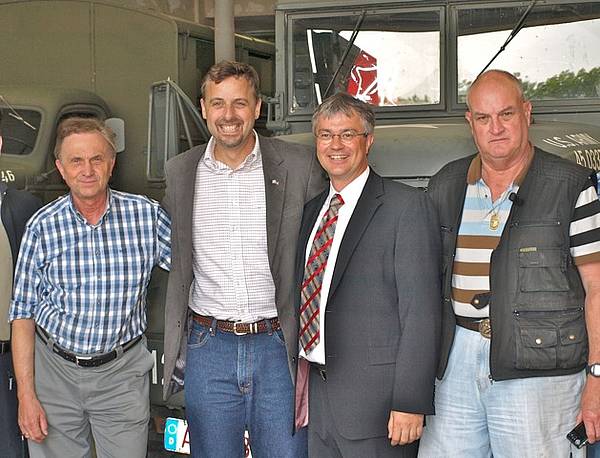 A small group photograph: Both AiA chairmen with Bill Moeller and Rick Cervenka.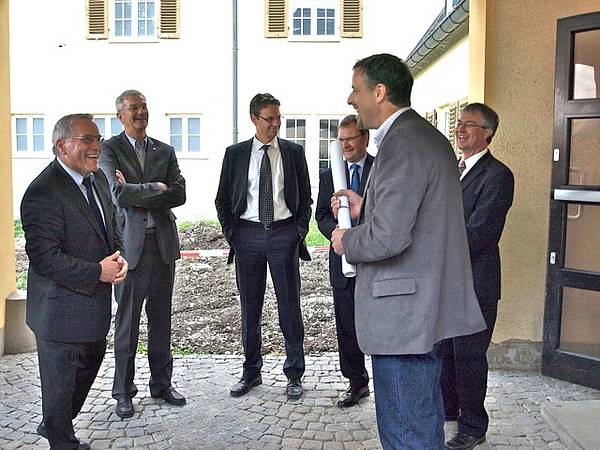 A warm farewell from Johannes Hintersberger (MdL) to Consul General Moeller in front of the Officers Club. In the background (from left to right): Edgar Mathe (WBG/AGS), a member of the consulate staff, Prof. Philipp Gassert (University of Augsburg) and Georg Feuerer.