During the decade-long presence of the U.S. Forces there were once and again performances that deviated from everyday military life. So e.g. on March 14, 1957 at Gablingen Kaserne, where eight European Beauty Queens visited the paratroops of the 11th Airborne Division. The Miss winners from Germany, Finland, France, Greece, the Netherlands, Austria, Sweden and Switzerland were guests of the Parachute Supply and Maintenance (PS&M) Company in Bldg 445 who took care of the maintenance and provision of the parachutes. Officer in charge was CPT William J. Dawson, who, only a few weeks later, was killed in the crash of two helicopters at Flak Kaserne. The big sports-field at Sheridan Kaserne was named after him: Dawson Field.
Acting Miss World 1956 was the German winner, Hildegard Petra Schürmann, later television announcer, presenter and actress. After a festive lunch, she attended, together with Europe's most beautiful women, demonstrations of Gablingen's paratroops, also at the landing fall training tower in the Northern era of the kaserne. It was a typical American show. At the end, the Beauty Queens received certificates for a "successfully completed basic paratrooper training course", which was confirmed by the decoration with the Airborne Badge. Of course, it was understood that this was only a symbolic act for the guests. The Airbornes did everything to make this wonderful spring day to a special kaserne experience. On the same day, a fashion show with the Misses took place at the reopened Hotel "Drei Mohren", where the then young German-American Women's Club was present (a year later also paying the same Airborne visit at Gablingen).
Already on the next day, military reality gave the beat again: The Division was re-designated to five Battle Groups, adjusted to nuclear warfare under the sign of the Cold War.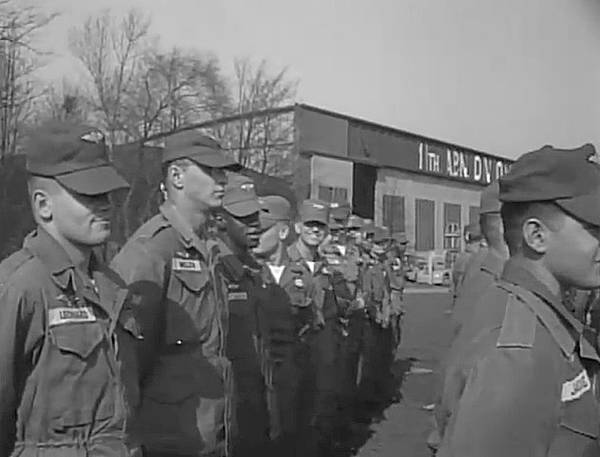 Falling abreast for an extraordinary visit: The paratroops of the 11th Airborne Division, also called "The Angels". In the background hangar #446 in the west of the airfield.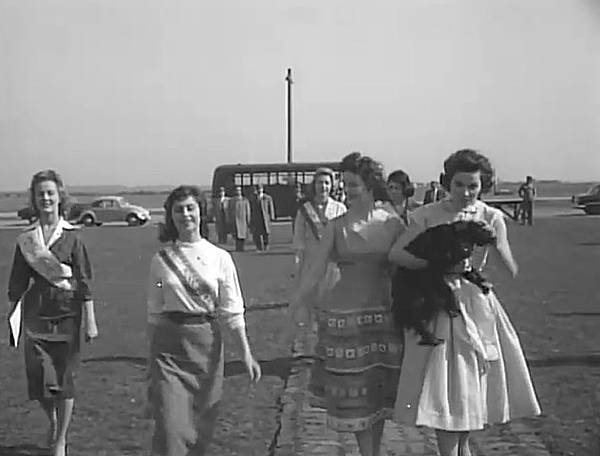 An Army bus brought the exclusive ladies to the Gablingen airfield. In the patterned dress (2nd from right) Petra Schürmann.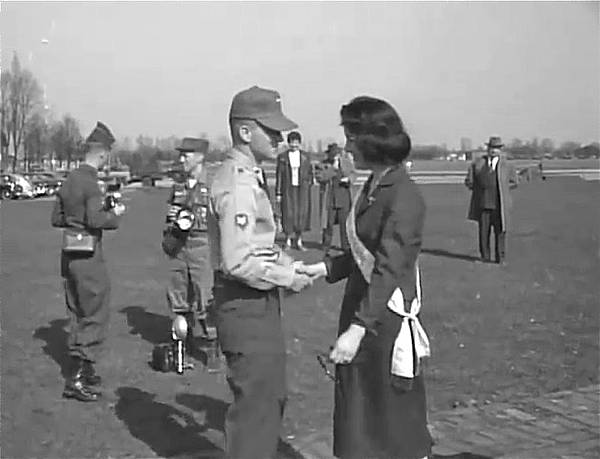 Welcome and reception by tough fighters, "The Angels". The Army photographers are preparing to "shoot".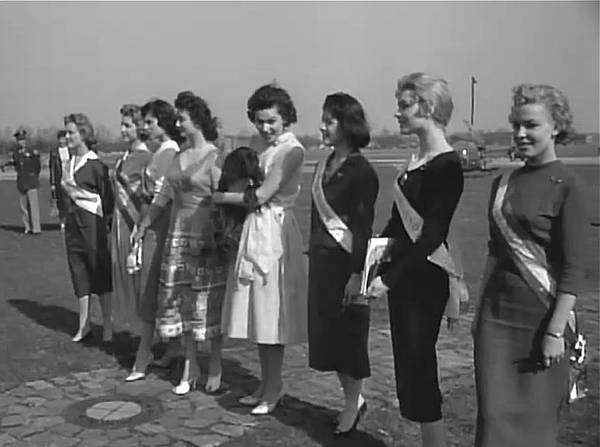 Eight beauty contest winners from European countries present themselves to the American paratroops.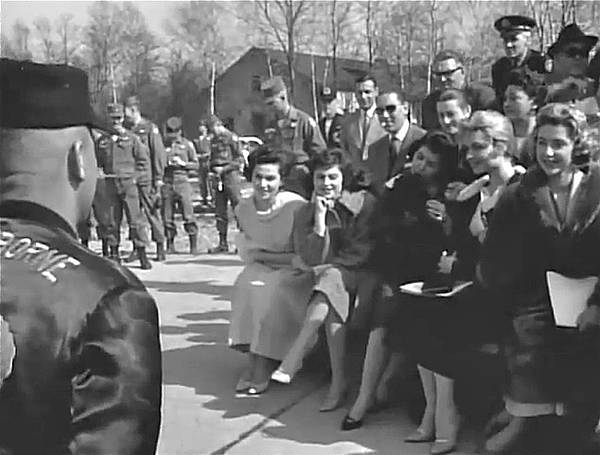 The ladies and their entourage are welcomed by the Gablingen Airborne Commander who also announces the tour program.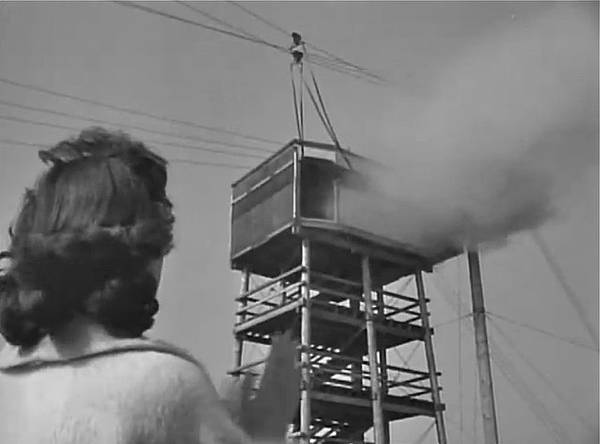 Fire in an airplane: a true spectacle - the soldiers must save themselves by jumping. Due to the low height, the jumps however are shown only on ropes from the training tower.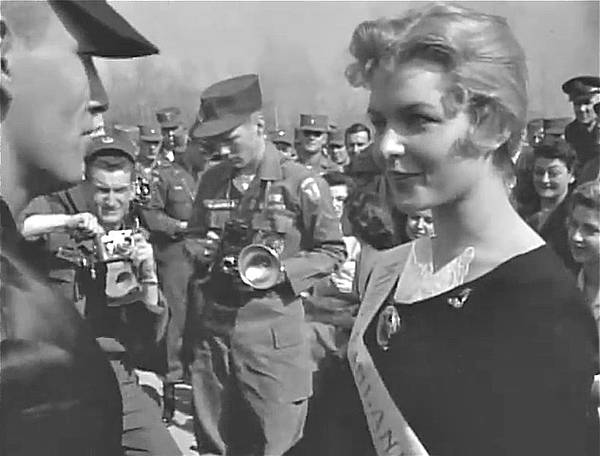 Miss Finland talking with an Airborne instructor. An extraordinary day for the U.S. Forces photographers.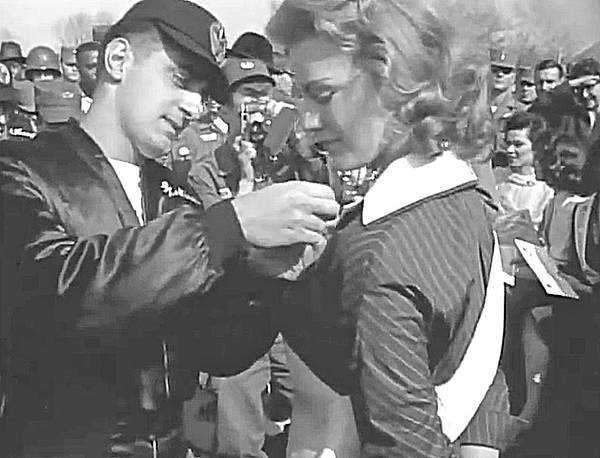 Decoration with the Airborne badge.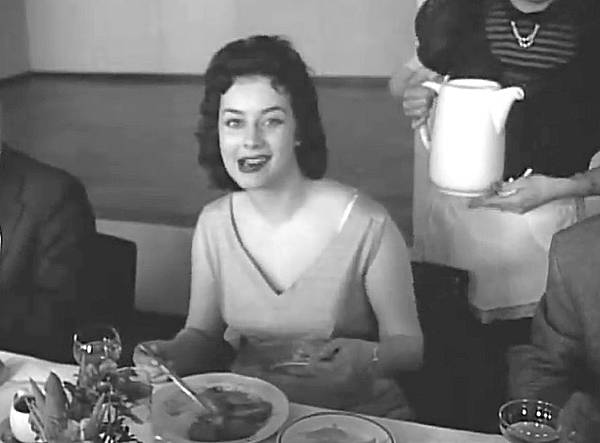 Miss World, Petra Schürmann, dining in Gablingen.

All Photos: The Big Pictures Screenshots, US Army.