There were Recreation Centers as well as EM and NCO Clubs in all U.S. kasernes plus an Officers Club in Sheridan Kaserne. These buildings featured ballrooms plus stages, bars and kitchens. In EM and NCO Clubs, even DJ booths were installed. In the barrack basements were Music Rooms for rock and country group training purposes. In addition, each of the three kasernes had a Movie Theater whose daily movie was announced by AFN. A huge new Bowling Center was constructed in Sheridan Kaserne. The former Bowling Center in Reese Barracks was then altered into a Roller Skating Rink.
Gymnasiums plus Racquetball Courts, Sports Fields, Tennis Courts, covered BBQ Areas in kasernes and housing areas, Photo Labs and all kinds of Craft Shops - e.g. ceramic woodwork, picture framing, leather, even POV repair - as well as the Community Library in Bldg 116, Sheridan Kaserne, where cherished areas to spend leisure time. The highlight was the big Recreation Center in Bldg 33, Reese Barracks, a former Wehrmacht Officers Club, that now is known as "abraxas", operated by the City of Augsburg. Famous was the lay(wo)men theater group "Augsburg Community Theater".
After U.S. base closure, in many attics (with reinforced concrete ceilings) of the now accessible barracks, so far unknown small as well as big entertainment areas were discovered, where once disco and bar activities took place. This way, the building's unit had designed its own recreation and music areas with a remarkable atmosphere.
Presently, most of these facilities already had to give way IAW the new City Masterplan and therefore disappeared – including their characteristic kaserne surroundings. For those U.S. soldiers that returned to the States as well as for those that are still stationed around the world, the photographs of a few recreation areas shall help to remind them of their time in Augsburg.
EM and NCO Club (also called Chapparal Club) in Sheridan Kaserne
Sheridan Theater without seats, 2004
Typical recreation area in a barracks building
Nowadays almost unknown - the former Enlisted Mens Club at Infantry Kaserne, Bldg 302, Schertlinstraße. The access was from the barrack square. Already in 1951, the club provided the usual conveniences, e.g. billard-rooms. (Photo: Jonnie W. Worth).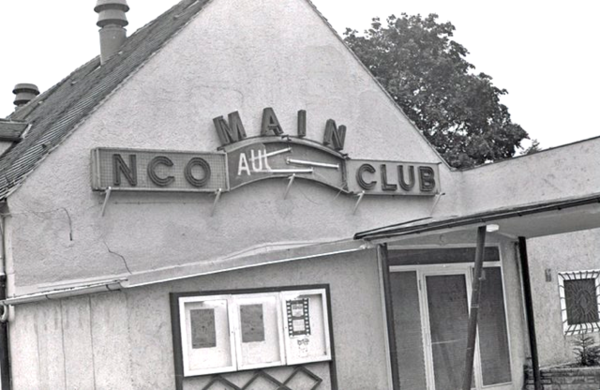 Hot rhythms and loud music were the features of the Main NCO Club at Sheridan Kaserne, Bldg 175, north of Grasiger Weg. Until today, former U.S. soldiers as well as mature ladies from Augsburg go into raptures about the former club life. (Photo: Brad Reeder, 1977).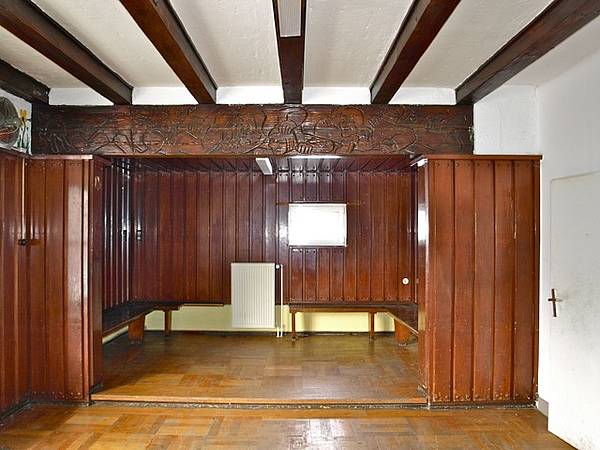 This rustic Trinkstube of the Wehrmacht was later also used as such by the U.S. lt was located in the Flak Kaserne Officers Quarters, Bldg 206, in the northwest area at Neusässer Straße.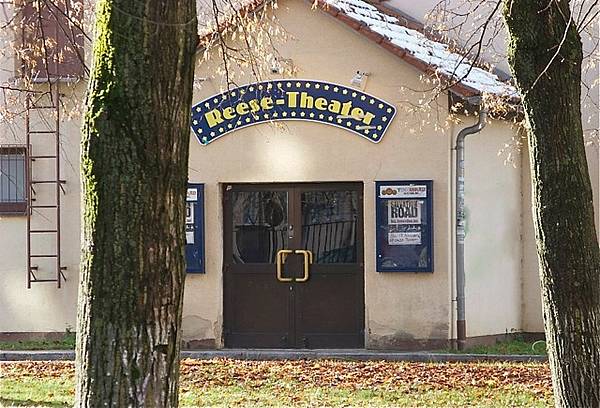 Even without historic preservation protection, the Reese Theater in what once was the Wehrmachts Somme Kaserne, remains a movie theater till after 2015.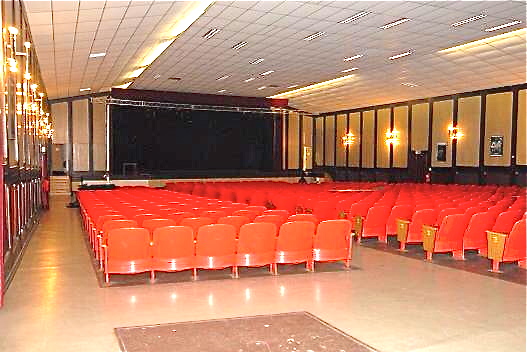 The interior of the theater auditorium, while showing an understated but impressive elegance, provides an excellent surround sound.
Augsburg High School (background) with gymnasium "Home of the Augsburg Apaches"
Gymnasium, Sheridan Kaserne